Super Mario Odyssey bursts with charm. Nintendo has always done colour and whimsy well, and Mario Odyssey is no exception. Filled with an imaginative array of creatures and clever little touches, it's one of the most cheerful games I've played.
I can pinpoint the moment when Mario Odyssey won my heart. In the first hour of the game, I came across a sleeping Tyrannosaurus rex lying on a small hill in the Cascade Kingdom, a colourful island of waterfalls and soaring cliffs. By now, I'd encountered the island's hostile creatures — spiky little swarming monsters; big, snarling Chain Chomps — and down the hill from the T-Rex, there were more Chain Chomps up ahead. The game's "capture" mechanic had already been introduced — Mario can transform into other characters by throwing his hat at them. So I took control of the T-Rex.
Mario's hat and moustache appeared on its face.
The T-rex roared.
This was going to be good.
A vivid and varied cast. Each level of Mario Odyssey is full of weird and wonderful inhabitants such as the snoozing dinosaur; while some are hold-overs from previous Mario games, many are new. For example:
A stronghold modelled after Japanese castles is defended by jingasa-hatted warrior birds – you need to capture the birds, jab their sharp beaks into walls, and vault upwards to climb the walls.
The fastest way around a desert temple complex is to ride a galloping jaguar statue summoned from bus stops.
At one point you need to compete against rotund racers who bounce up and down along the course.
Little touches seal the deal. There are the local outfits Mario can acquire as he travels from level to level, ranging from samurai armour (pictured below) to a pin-striped suit: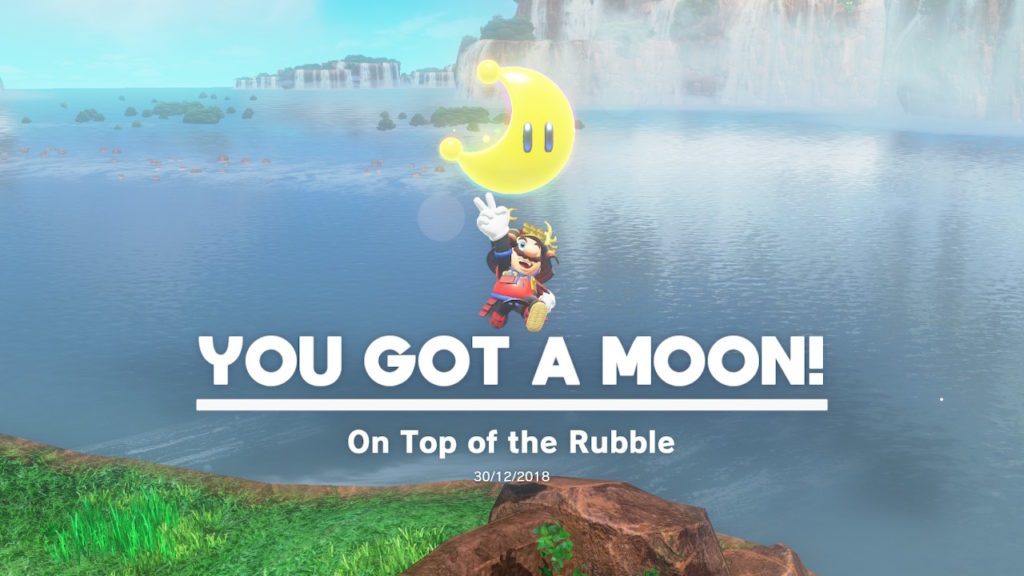 There's the conceit behind the level maps — they're not just a convenience for the player, they're taken from in-universe tourist brochures. And there are the tourists themselves — check out the screenshot below, featuring a group of visitors to the desert level.
A treat for all ages. While Mario Odyssey is mechanically satisfying, what kept me coming back was how much I enjoyed its world. I enjoyed exploring each level; I enjoyed dressing Mario up in new costumes; I enjoyed wandering around in the post-game, seeing what had changed. Here's to Nintendo, and its sense of joy.