What can you do when you desperately want to talk about a game, yet cannot do so without spoiling most of what made it such a memorable experience? I have been attempting to find an answer to that question for weeks now. Game of Thrones the RPG is that rare thing: a game with a story which would genuinely be lessened if, when starting, you knew what lay ahead. There are moments of genuine surprise, moments of emotion, moments where the pieces snap together and where I was left in admiration of the storytelling. As much as I would love to link to a youtube video of my favourite speech in the game, I cannot. As much as I'd love to discuss the interplay during a certain rainy scene, I cannot. As much as I am dying to discuss the way a specific relationship is developed, I cannot!
There came a point where, with a good deal of surprise, I realised that I wished I had not read the books by George R R Martin because they were spoiling the game's plot. Honestly. Hand on heart. When the game laid out certain facts, my mind feverishly examined them, twisted them about to fit them into the ever-expanding plot — and then I realised I knew the rough direction certain aspects must take because of what is — and is not — present in the books. If I hadn't possessed that book-based knowledge, then particular aspects of the plot would have been all the more effective — but I cannot elaborate without risking indirect spoilers.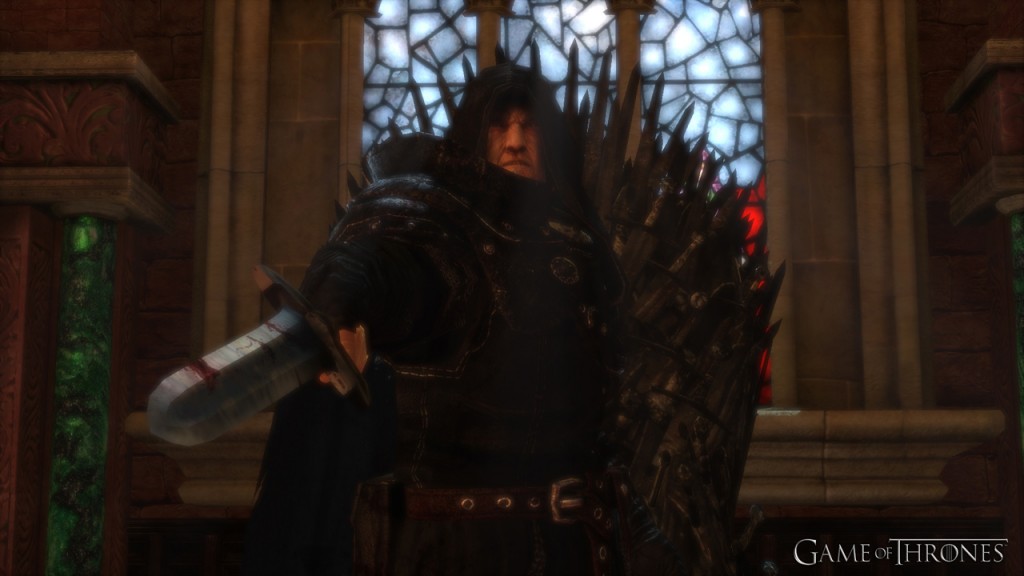 For reader reference, I am not a big fan of the Ice & Fire series. I have read all of the main series, along with two of the Dunk & Egg novellas. I started reading back when book 3 was released in paperback. Whilst I really enjoyed the first three books, I found Feast for the Crows and Dance with Dragons to be deeply disappointing. The novellas were OK, the first being superior to the second in my opinion. Series 1 of the HBO adaptation was generally excellent, but I haven't yet seen series 2. Thus, I would say you do not need to be a fan in order to enjoy the game. You only need to have the right gaming tastes. Make no mistake: however much I liked it, I do not recommend Game of Thrones the RPG to any but a specific sub-set of gamers. More on that later. First I shall attempt to pick my way through the minefield and explain why I enjoyed the story so much.
To begin with, the game alternates between two protagonists, Mors and Alester. You play chapter 1 as Mors, chapter 2 as Alester, and so on, back and forth, until eventually they meet. At the outset the two stories feel completely disassociated. Mors is up at the Wall doing his duty as a brother of the Night's Watch; Alester is down south taking up the reins in his family home. Alester's story begins months prior to Mors'; you're playing the recent past. Gradually, a tentative link appears between the two strands. It's at this point the game begins to get interesting. Yes, the game suffers from a slow beginning. I found Mors' story reasonable from the first, if nothing special or particularly engaging. Alester had some interesting moments, but it took several of his chapters before his half of the tale began to engage me.
When that tentative link appears, Mors' story started to take a rapid uphill climb. His relationship with a certain character began to develop from typical videogame material to something better, something portrayed with a certain touch of sensitivity — this lent it a humanity frequently lacking from similar relationships in other games. It's at this point Mors' voice actor began to improve, as though he'd realised there was more to this script than the typical fantasy game guff. I began to look forward to scenes featuring the two characters, and equally to desire answers to questions which were beginning to form.
Then, Things Happen(TM). Well golly! Yes, I'd seen some of that coming but execution certainly kept my attention riveted — and immediately, freshly hungry for answers, we are snatched away to Alester's next chapter. It's a lengthy chapter and slowly, slowly a few pieces of the jigsaw are doled out, fitted together. Right around the point where I felt the chapter was over-long, More Things Happened(TM). And did not stop happening. For the rest of the game. Twists, turns, revelations, shocks, neat snatches of dialogue, and always that hunger to find out what happens next — the story hit its stride and did not falter. Suddenly, those slow opening chapters made a lot more sense when viewed as part of an overall story. They established the cast of characters and the world they inhabit: the type of detailed set-up material so common in books and rare in games. Mors and Alester, in particular, had more to them than typical game characters. Added dimensions and familiarity upped the impact of those aforementioned Things Happening(TM). Events I would have watched dispassionately in another game — have watched dispassionately in other games! — hit me in the gut this time around. Things which feel cheesy or silly in other game plots worked smoothly in this one because the time had been taken to set them up, embroider them into the fabric of the universe. Character motivations made sense as human motivations rather than plot devices. Mors and Alester developed shades of grey, revealing themselves as gloriously human characters. Predictable events often had unpredictable spins to them, happening at the 'wrong' time, or with added aspects which were not expected. At the end, the very end, after one final roller-coaster of emotion, I found myself in the happy position of not being able to say which of two conflicting viewpoints was the right one. Honour or duty? A vital, thematic question. The very last scene of the game was one resulting from my choices; it reflected the decisions I had made and left me with a mixture of sorrow, hope, pride, and worry. I believed I had done the right thing by my favourite character, yet I wondered if perhaps the cost would, in the end, prove too high.
The game has five different endings. There's a major choice at the clearly flagged point of no return. This determines which 'side' of the ending you will play out. After that, you make another choice on which direction you want the ending to take. The fifth ending is for dying during a certain battle. I reloaded to watch the others — I needed to know! The first ending I saw, the one I regard as my 'true' ending, was the most fitting for the path I had taken through the story and I'm glad I arrived at that one naturally.
Yes, "path through the game" and "choices". Whilst the characters are pre-written and are confined by the limitations of the plot, there's a reasonable bit of wriggle-room for the player to shape their own versions of Mors and Alester. My Mors was an honourable, upstanding, occasionally downright scary fellow. He could have been a blood-thirsty psychopath, or an unbending, harsh veteran. My Alester tried to strike a balance between the demands of family, honour, religion and crown. In another playthrough he could have been a religious zealot, an oppressor of his people, or a wannabe-liberator. When Mors and Alester unite, the player retains control over both. Conversations will frequently have the option of a response from each character. This ensures there are few personality swerves, and that neither character is relegated to subordinate place. Mors and Alester are equals throughout. The story is theirs: it belongs to both and is told by both. Sub-events can be influenced as well, and the choices you make will often come back in later chapters. To give a spoiler-free example, if you save a certain person in one chapter you can meet him again later and could talk him into assisting you.
Interestingly, Mors and Alester are both older men. Mors is completely grey, Alester heading that way. One could pithily sum this up with "Mature characters for a mature story". Life imparts experience, and both characters are richer for having decades of life behind them. They reference, and draw upon, this experience throughout the game.
So why wouldn't I recommend the game to all RPG gamers? It's very simple: the gameplay and the production values. This is a game which relies very heavily on its plot, and so gamers who prize gameplay above all else will struggle to see much attraction.
In terms of production values, Game of Thrones the RPG is clearly not a triple-A title with a many-millions budget; it is unfair to demand it match a Bioware or Bethesda game in that department. The game cannot compete on those grounds and there is no point in trying to claim otherwise.
Game of Thrones the RPG is not a pretty game. I'd say that it's not as ugly as some critics have made out; it's about on a par with Dragon Age: Origins' console versions. If Dragon Age has occasionally better texture work, Game of Thrones has better character models with nary a spindly-twig-arm in sight. Locations are easy to recognise by sight, and character models have a good range of variety. Whilst there's plenty of unrealistic fantasy armour, there's also a higher than typical amount of armour based on real historical designs. Generally, I felt that the common foot soldiers had the best 'outfits'. The game's major set-back in presentation occurs in larger areas, King's Landing in particular. The game engine (and doubtless budget) cannot host large, complex areas filled with plenty of active NPCs. Thus, the two bustling urban areas felt decidedly boxy and emptier than they aught. There's also a strange obsession with closing off the easiest route from A to B in King's Landing, meaning that the player is forced to take the long route around outside of specific set-pieces which temporarily open up the doors. Castle Black fares better due to being a quieter and more straightforward location; however, the sense of scale is missing from the wall. It's the old graphics versus gameplay versus experience debate – some people are better able to overlook shortcomings like this, others find they unacceptably damage the atmosphere of the game. That's a decision best made by the individual gamer.
The game fares similarly in the audio department. The TV series' theme music is used for the title screen. Other than that, the music is original, and unfortunately quite forgettable. The sound effect selection does the job, although without a huge range of variety. I did find that the howl of wind added a lot of atmosphere to the chapters taking place at the Wall, and contributed more to the feeling of chill than the snow and ice effects. The voice acting is a very mixed affair. Mors improves as the game progresses, starting as a gruff, growly half-hearted sort, and ending the game as a gruff, growly fellow who produced lines with such emotion I was mesmerised through a certain scene. Alester, by contrast, is voiced with consistency throughout, though sadly he never reaches the same highs even if he does avoid the initial lows. The two main characters have a lot of dialogue between them, and fortunately, even at their worst, I never found them to be less than tolerable. All of the characters who appear in the HBO series are voiced by their respective actors, including Lord Mormont, Varys and Cersei. The remainder of the cast range from acceptable to "Is something wrong with her nose?"
Some gamers associate mid-budget games with bugs and technical failings, sometimes with good reason. Game of Thrones the RPG has few such issues, at least in its Xbox 360 incarnation. The frame rate was stable and fluid, and I only encountered two bugs in my entire 30+ hour playthrough. Both were in the final chapter, and both necessitated reversion to an earlier save as they made progress impossible. In one instance I could not initiate conversation with a critical NPC, in the other I could not walk through a doorway due to an invisible wall. That's actually fewer bugs per hour than I've encountered in some recent triple-A RPG titles :cough Mass Effect 3, Skyrim :cough: but it was still immensely aggravating, and cast a cloud over the game's final hour. The standard RPG maxim should be followed: save early, save often, and save in multiple slots!
Gameplay is roughly a 40/40/20 split between conversation/plot, exploration/travel, and combat. Yes, combat is very much in the minority! Battles are less frequent than is the genre norm, and the stakes are much higher. Active player participation is required — there is no mashing X to win in this game. Difficulty is adjustable at any time, yet, as in Witcher 2, easy mode is more comparable to most games' normal mode. You must use your characters' skills wisely, both to set enemies up for extra damage and to prevent them from using their own skills. Using a skill costs stamina; a character can temporarily go into guard mode to catch their breath and restore most of their stamina gauge. There is a cooldown on this, however, so it cannot be spammed. Characters can apply poisons and wildfire to their weapons for extra effects, and can drink potions for bonuses. During tough battles, both will be essential. Each level gained feels precious, each upgrade to your equipment significant, because an extra 10 points of damage have a tangible effect in combat. Personally, I preferred this approach. Combat quality over combat quantity. Orders are issued in real-time and combat cannot be paused. Instead, you pull up a skill wheel and the game goes into slow motion. Queue up your commands, swap between characters and targets as necessary, then close the skill window. The game will resume normal speed and the actions play out. While there's an element of pressure, I never felt overly harassed by the inability to pause, and I confess to being something of a pause-baby in any RPG which will let me. Conversation, exploration and travel all function as you'd expect, following genre conventions like dialogue choices and fast travel.
The game does feature the occasional stealth section. Mors is a skinchanger and can take command of his dog. Mors being Mors, the dog is called Dog and looks about as grizzled as his master. These sections are short and quite widely interspersed throughout the game. Dog will not give Solid Snake any competition-based fears as his stealth is markedly simpler than that of the serpent. You control Dog from a first-person viewpoint. You walk up behind guards and pounce on them, tearing their throat out with the aid of a simple button-bashing minigame. Done, you abandon the corpse and skulk off to locate the next hapless fellow. If the guards spot you then they will attempt to kick Dog. Should they land a blow, Mors is jolted out of Dog's mind. It's a mild penalty; you can immediately dive right back in and run back to the guard who foiled you to try again.
I'm hesitant to call this a review. I don't want to write a review, although that's what it has ended up being. I want to discuss the rain scene, and the ending, and the relationships, and all those other spoilerific aspects. I want to talk about why this story would make a decent book — note decent, not great literature or throw-away pulp reading. I want to compare it to the other games and talk about why the story worked for me where others fell flat. It is a repeat of my Divinity II dilemma. You see, I loved the original ending of Divinity II. I can't tell anyone why without ruining the ending and thus robbing my audience of the necessary experience to fully enjoy it. Some things require a build-up, context, and immersion in order to work.
If you are interested in strong characters and plotting in video games, then you probably aught to play this game. It manages to get so many things right in those areas! Wait for a sale if you feel more comfortable with lower expenditure and hence, lower risk. Play until you reach the scene in the rain around the halfway mark. If you aren't caught by that point, then I doubt you ever will be. Just remember: it's a slow starter.
The basis of my … gibbering:
Time spent with the game: Somewhere around 35 hours. The storyline was completed, as were all side quests and achievements. I also saw three different endings.
The review is based on the Xbox 360 version of the game. It was purchased by myself.
The images used in this piece all come from the official website at http://www.gameofthrones-rpg.com.