Happy New Year, everyone!
My gaming resolutions for 2021 were to try new things, and write more for this site. I wrote about several games — notably Humankind, Highfleet, Sable, Stars in Shadow, Brigandine: The Legend of Runersia, and assorted flight sims — and interviewed the developers of Stars in Shadow. I delved into deck-builders, sampled various indie games (mostly on Game Pass), and tried unique experiences such as Highfleet and Subnautica. I also kept playing one of my mainstay genres, the 4X strategy game, and revisited a genre from which I've lapsed, the narrative RPG.
Build deck, fail, try again
In 2021, I played three deck-building, card-battling roguelites:  Slay the Spire, Nowhere Prophet, and Fights in Tight Spaces.
At the time I would have called Nowhere Prophet my pick of the three, based on its emphasis on worldbuilding and (emergent) narrative. You lead your tribe across a post-apocalyptic colony planet in search of a promised land, managing supplies and battling rival factions along the way. Managing a desperate turnaround to win the final battle was one of my coolest gaming moments all year; and I loved that the ending reflected my choices along the way.
Right now, my favourite would be the more replayable Slay the Spire — I liked it enough to pick up the Switch version after first beating it on Game Pass for PC. It's quick, satisfying, and never leaves me frustrated — even when I frequently die. And the game's art style and quirky charm have grown on me.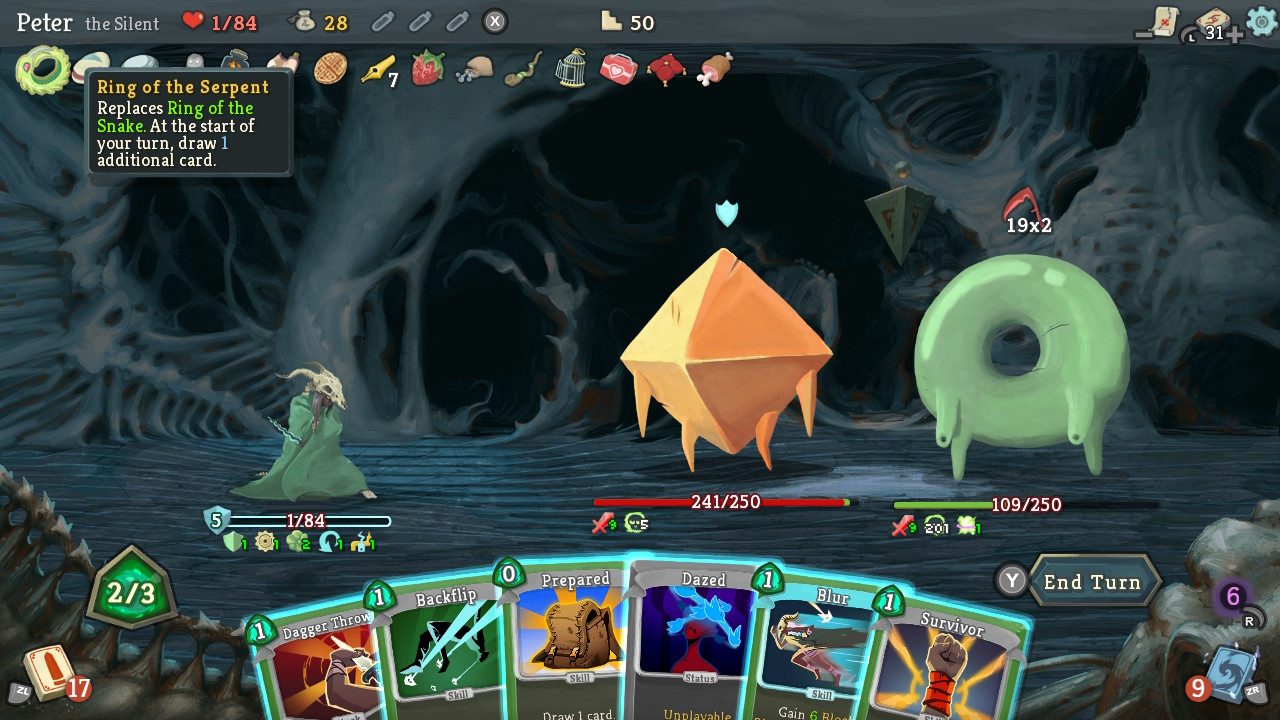 An honourable mention goes to Fights in Tight Spaces, a stylish Bond/Bourne/action movie-themed game where, with full visibility over the enemy's upcoming turn, you use cards to manoeuvre your agent around the battlefield and strike back.
Discovering new worlds
Subnautica is one of the best science-fiction experiences in game form. It captures what it must be like to explore a new world: marvel, mixed with terror. Over time, as I build bases, upgrade my equipment, and learn more about the surrounding seas, the terror abates — but it never quite goes away, not for voyages into the unknown. If I have a complaint, it would be the "needle in a haystack" progression. I estimate I'm in the late midgame, so there should be plenty left to discover.
Challenging myself
Highfleet deserves special mention for its approach to difficulty. This is a game that demands the player learn how it works, understand systems such as detection, and learn the tools available, such as how to strike from long range. Then it throws the player in the deep end against superior enemy fleets, and early on, before I learnt, those fleets pounded me to bits. That made it all the sweeter when I turned the tables.
Flight simulators — and in particular DCS World, the modern military flight sim — might also belong here. I don't think I will ever master the intricacies of a modern fighter in DCS. At the same time, DCS at its best is a flow experience: flying, working the radar, manoeuvring and shooting, and once, seeing a glorious sunrise as my reward.
Revisiting the 4X genre
In 2021, I played two 4X games that shine at the clash of empires: Humankind and Stars in Shadow. Humankind is at its best when I'm fighting for my life against army after enemy army, desperately buying breathing space, and then grimly preparing for the next war. Meanwhile, Stars in Shadow strips away the bloat from the 4X formula with a focused design, an emphasis on ship design & tactical combat, an AI that knows how to challenge the human, and an overall sense of charm.
Replaying Civ VI (this time on Switch) shortly before the release of Humankind let me compare them side-by-side. I think they're very different, with Civ VI being better for tile and city optimisation, enlivened by great music, whereas Humankind is better with conflict and the threat of conflict. Overall, I like both, with a preference for Humankind.
Last but not least, I had a great time replaying Shadow Empire, via a co-op succession game with a friend.
Returning to narrative RPGs
I used to be a big fan of RPGs, both Japanese and Western, before drifting away over the last decade. In 2021, I powered through Dragon Quest XI and finished the main game, after playing on and off for several years. At its best, it tells a story about character growth and resilience, wrapped up in a charming, whimsical world.
I also started on the Yakuza series with Like a Dragon, and replayed a decent chunk of Final Fantasy XII.
What were my favourite new games of 2021?
Out of the few new releases I played in 2021, Humankind is my pick for Game of the Year. Other notable releases included:
Highfleet, with its combination of imagination and uncompromising difficulty.
The cheerful, charming Sable.
Unpacking, a satisfying puzzle game that traces a person's life over the decades by unpacking her belongings after each move.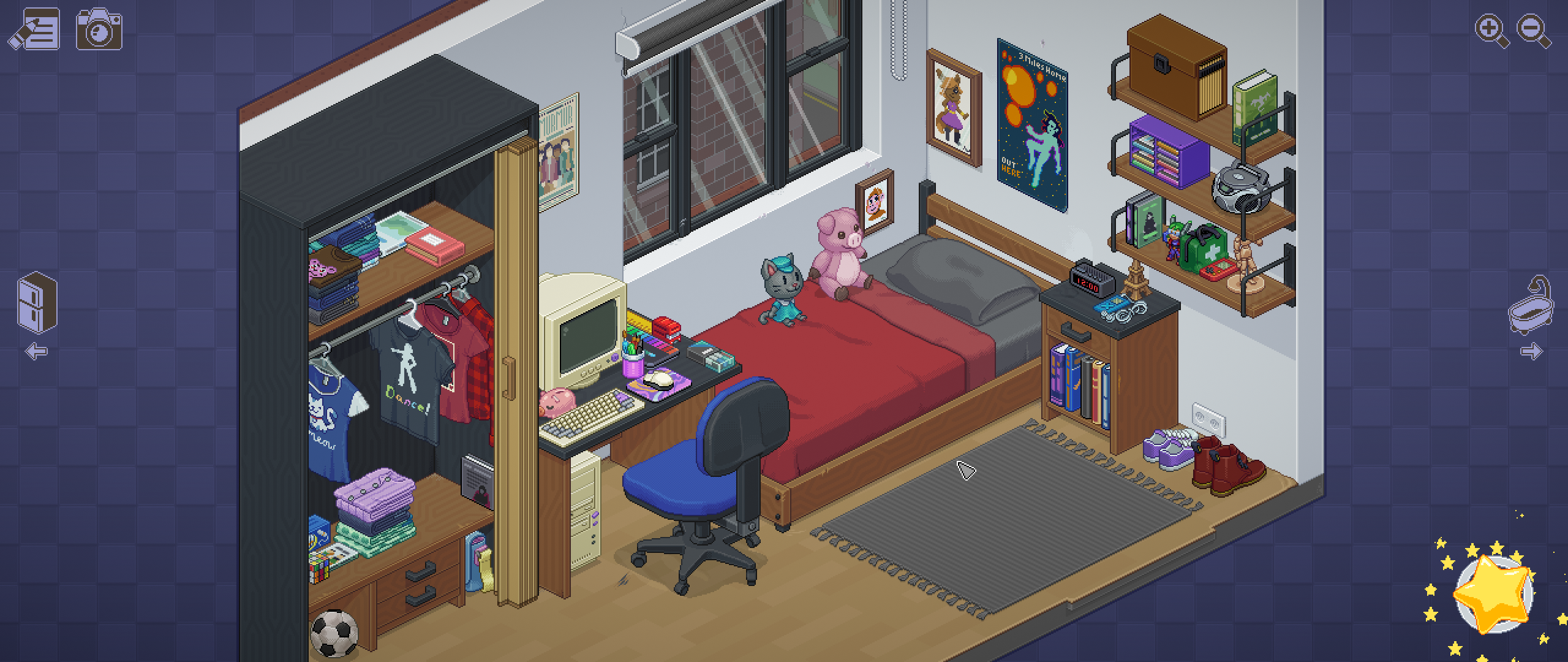 I'd like to spend more time with two games whose fluid combat and striking graphics made a good first impression on me:
Record of Lodoss War: Deedlit in Wonder Labyrinth — a retro Metroidvania.
Death's Door — an isometric action game.
What were my favourite discoveries from previous years?
During 2021, I discovered a lot of games that had originally released in previous years, from a wide array of genres. The highlights included:
Subnautica — survival and exploration
The digital version of Wingspan — a relaxing, delightful board game about attracting birds to a sanctuary.
Stars in Shadow — space 4X
DCS World — military flight sim
Slay the Spire — deck-building roguelite
Nowhere Prophet — deck-building roguelite
Brigandine: The Legend of Runersia — console strategy-RPG
Good Job — an often hilarious physics puzzler
Northgard — a clever variation on the RTS, with a greater focus on building and manning a settlement. If only the font on the Switch version were larger…
Carto — a puzzle game with a unique mechanic: rearranging pieces of a map to change the world around you
Troubleshooter: Abandoned Children — an indie squad-based tactics game with some interesting twists on the XCOM formula, such as a greater focus on melee combat
PGA Tour 2K21 — my first ever "realistic" sports game, after I previously enjoyed Golf Story
Honourable indie mentions include:
River City Girls — a beat-em-up
Silence: The Whispered World 2 — an adventure game, short on narrative coherence but with some striking "scary fairy-tale" moments
The perennials
I revisited some games due to new DLC (Anno 1800, X4: Foundations, Total War: Three Kingdoms), updates (Shadow Empire), or buying on a new platform (Civ VI). Majesty was a childhood favourite whose HD version I replayed on Steam — after two decades, I finally beat the campaign. And Mario Kart 8: Deluxe is an evergreen favourite.
Looking forward to 2022
2022 should be exciting for 4X lovers: Distant Worlds 2 is scheduled for March, while Soren Johnson's Old World will come to Steam in Q2.
Two of Old World's stablemates from Hooded Horse Games, Terra Invicta and Falling Frontiers, are also scheduled to release in 2022. Both are space combat strategy games, with Terra Invicta also adding an element of "XCOM: Council Simulator" as players compete for influence and resources on Earth.
Two upcoming Early Access titles look interesting: Eugen's WARNO, a spiritual successor to the Wargame franchise; and Nebulous: Fleet Command, another space combat strategy game. Both are due to enter Early Access in early 2022 (January and February, respectively).
And finally, Slime Rancher 2 was the highlight of E3 for me. The original game was colourful, cheerful, and by virtue of being first-person and 3D, satisfyingly tactile to explore. I look forward to the sequel bouncing onto my screen in 2022!
Enjoy the site? Subscribe below to receive email notifications: